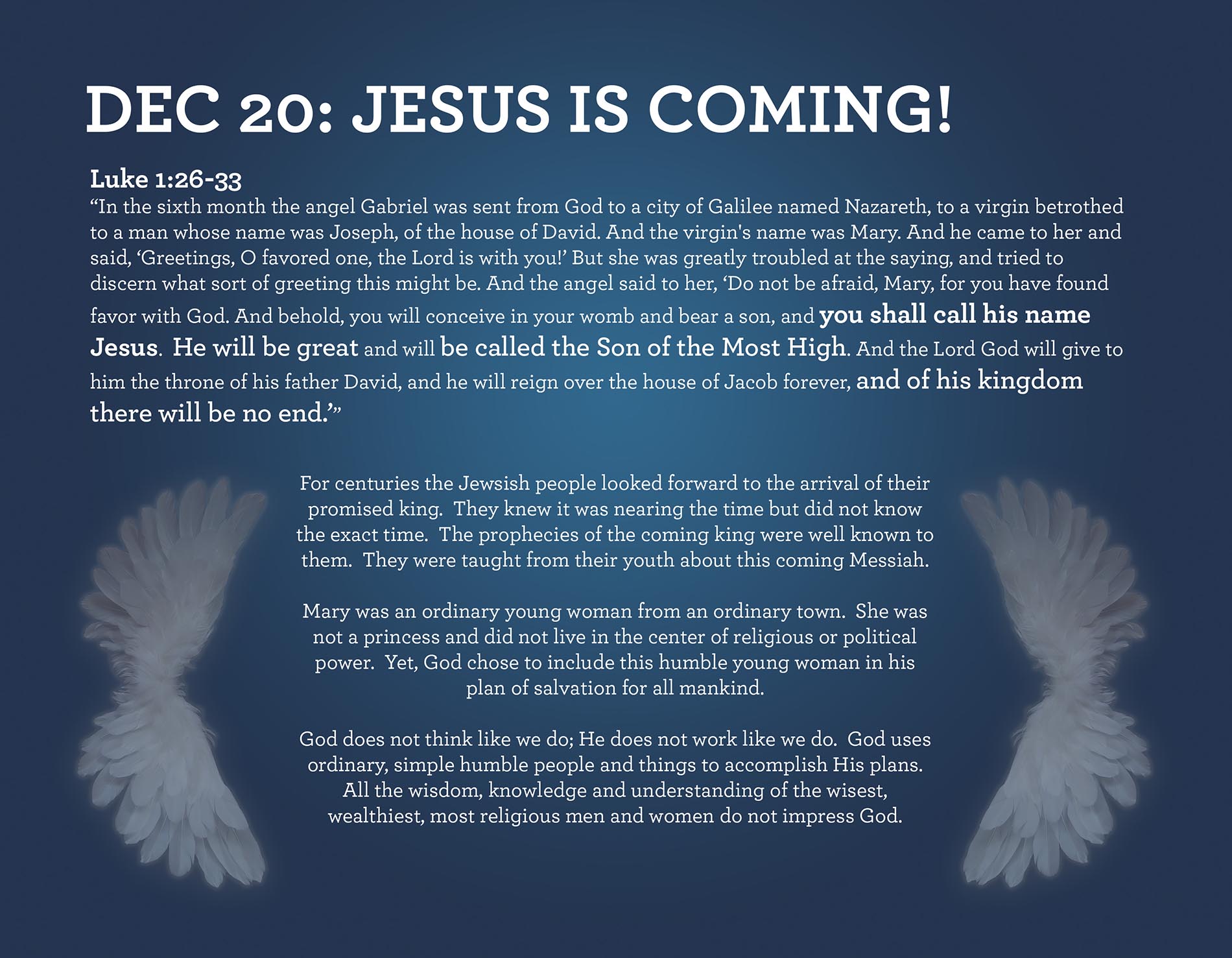 | | |
| --- | --- |
| | |
---
Luke 1:26-33
"In the sixth month the angel Gabriel was sent from God to a city of Galilee named Nazareth, to a virgin betrothed to a man whose name was Joseph, of the house of David. And the virgin's name was Mary. And he came to her and said, 'Greetings, O favored one, the Lord is with you!' But she was greatly troubled at the saying, and tried to discern what sort of greeting this might be. And the angel said to her, 'Do not be afraid, Mary, for you have found favor with God. And behold, you will conceive in your womb and bear a son, and you shall call his name Jesus. He will be great and will be called the Son of the Most High. And the Lord God will give to him the throne of his father David, and he will reign over the house of Jacob forever, and of his kingdom there will be no end.'"

For centuries the Jewsish people looked forward to the arrival of their promised king. They knew it was nearing the time but did not know the exact time. The prophecies of the coming king were well known to them. They were taught from their youth about this coming Messiah.

Mary was an ordinary young woman from an ordinary town. She was not a princess and did not live in the center of religious or political power. Yet, God chose to include this humble young woman in his plan of salvation for all mankind.

God does not think like we do; He does not work like we do. God uses ordinary, simple humble people and things to accomplish His plans. All the wisdom, knowledge and understanding of the wisest, wealthiest, most religious men and women do not impress God.