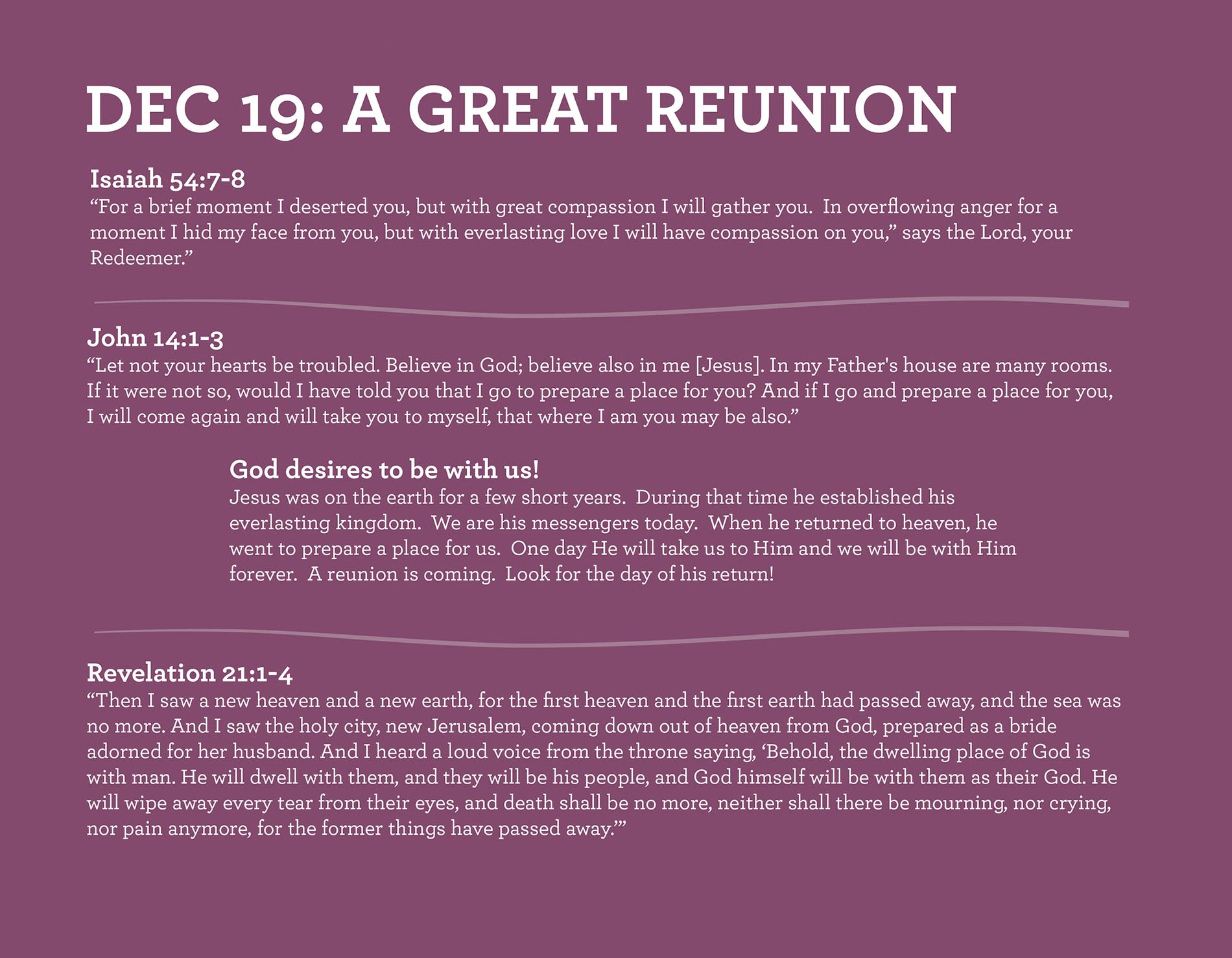 | | |
| --- | --- |
| | |
---
Isaiah 54:7-8
"For a brief moment I deserted you, but with great compassion I will gather you. In overflowing anger for a moment I hid my face from you, but with everlasting love I will have compassion on you," says the Lord, your Redeemer."

John 14:1-3
"Let not your hearts be troubled. Believe in God; believe also in me [Jesus]. In my Father's house are many rooms. If it were not so, would I have told you that I go to prepare a place for you? And if I go and prepare a place for you, I will come again and will take you to myself, that where I am you may be also."

God desires to be with us!
Jesus was on the earth for a few short years. During that time he established his everlasting kingdom. We are his messengers today. When he returned to heaven, he went to prepare a place for us. One day He will take us to Him and we will be with Him forever. A reunion is coming. Look for the day of his return!

Revelation 21:1-4
"Then I saw a new heaven and a new earth, for the first heaven and the first earth had passed away, and the sea was no more. And I saw the holy city, new Jerusalem, coming down out of heaven from God, prepared as a bride adorned for her husband. And I heard a loud voice from the throne saying, 'Behold, the dwelling place of God is with man. He will dwell with them, and they will be his people, and God himself will be with them as their God. He will wipe away every tear from their eyes, and death shall be no more, neither shall there be mourning, nor crying, nor pain anymore, for the former things have passed away.'"