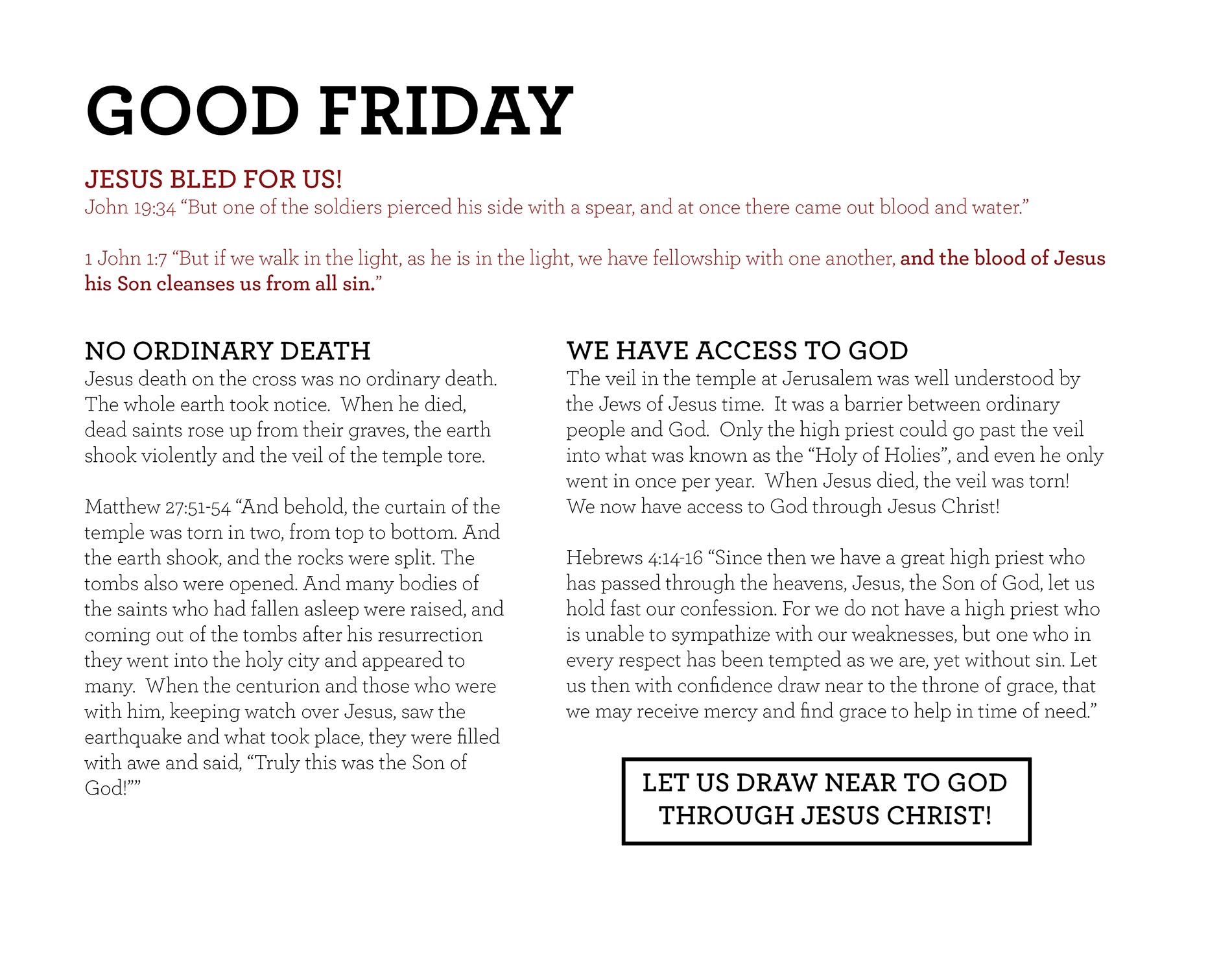 | | |
| --- | --- |
| | |
---
JESUS BLED FOR US!
John 19:34 "But one of the soldiers pierced his side with a spear, and at once there came out blood and water."

1 John 1:7 "But if we walk in the light, as he is in the light, we have fellowship with one another, and the blood of Jesus his Son cleanses us from all sin."

NO ORDINARY DEATH
Jesus death on the cross was no ordinary death. The whole earth took notice. When he died, dead saints rose up from their graves, the earth shook violently and the veil of the temple tore.

Matthew 27:51-54 "And behold, the curtain of the temple was torn in two, from top to bottom. And the earth shook, and the rocks were split. The tombs also were opened. And many bodies of the saints who had fallen asleep were raised, and coming out of the tombs after his resurrection they went into the holy city and appeared to many. When the centurion and those who were with him, keeping watch over Jesus, saw the earthquake and what took place, they were filled with awe and said, "Truly this was the Son of God!""

WE HAVE ACCESS TO GOD
The veil in the temple at Jerusalem was well understood by the Jews of Jesus time. It was a barrier between ordinary people and God. Only the high priest could go past the veil into what was known as the "Holy of Holies", and even he only went in once per year. When Jesus died, the veil was torn! We now have access to God through Jesus Christ!

Hebrews 4:14-16 "Since then we have a great high priest who has passed through the heavens, Jesus, the Son of God, let us hold fast our confession. For we do not have a high priest who is unable to sympathize with our weaknesses, but one who in every respect has been tempted as we are, yet without sin. Let us then with confidence draw near to the throne of grace, that we may receive mercy and find grace to help in time of need."

LET US DRAW NEAR TO GOD THROUGH JESUS CHRIST!