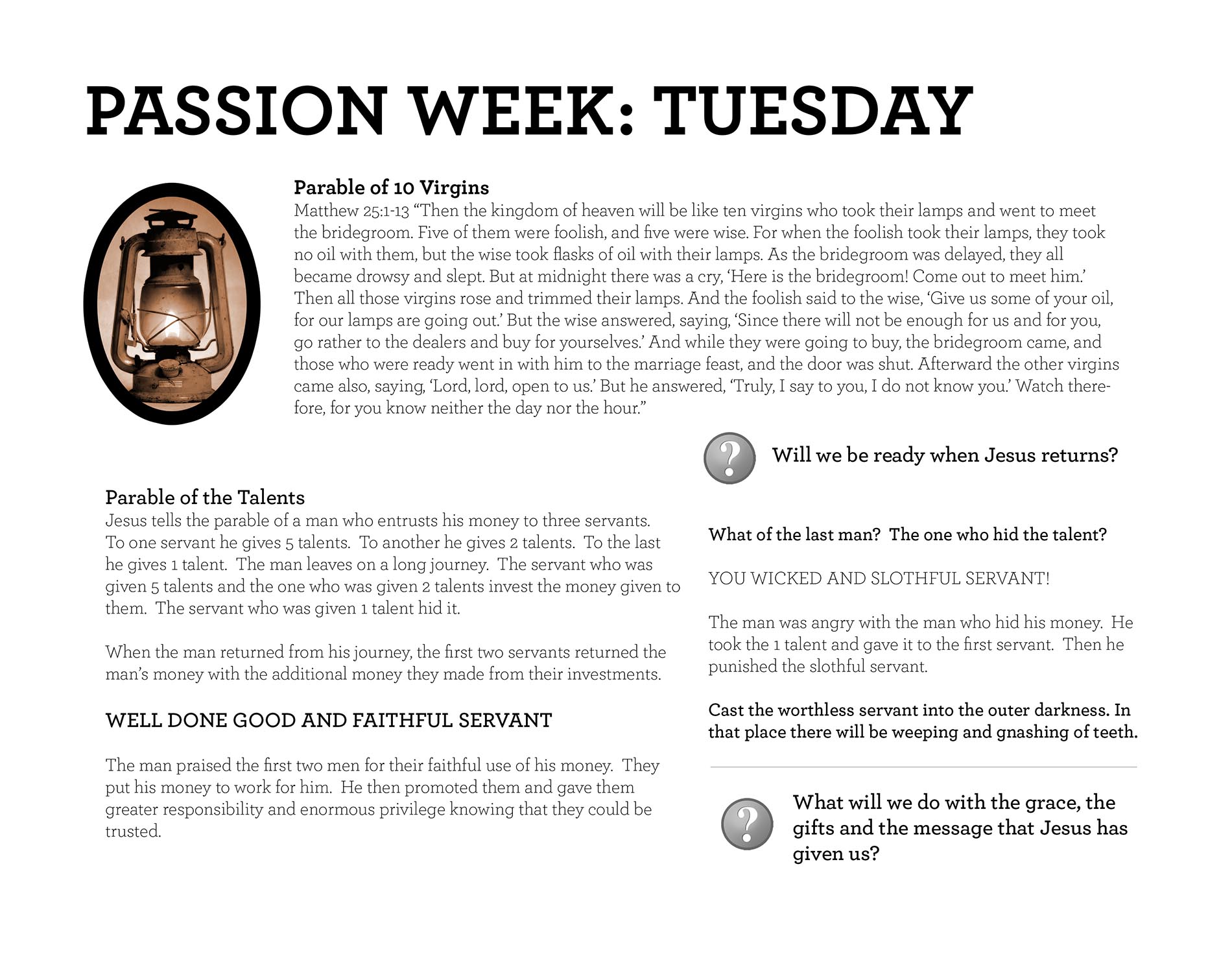 | | |
| --- | --- |
| | |
---
Parable of 10 Virgins
Matthew 25:1-13 "Then the kingdom of heaven will be like ten virgins who took their lamps and went to meet the bridegroom. Five of them were foolish, and five were wise. For when the foolish took their lamps, they took no oil with them, but the wise took flasks of oil with their lamps. As the bridegroom was delayed, they all became drowsy and slept. But at midnight there was a cry, 'Here is the bridegroom! Come out to meet him.' Then all those virgins rose and trimmed their lamps. And the foolish said to the wise, 'Give us some of your oil, for our lamps are going out.' But the wise answered, saying, 'Since there will not be enough for us and for you, go rather to the dealers and buy for yourselves.' And while they were going to buy, the bridegroom came, and those who were ready went in with him to the marriage feast, and the door was shut. Afterward the other virgins came also, saying, 'Lord, lord, open to us.' But he answered, 'Truly, I say to you, I do not know you.' Watch therefore, for you know neither the day nor the hour."

Parable of the Talents
Jesus tells the parable of a man who entrusts his money to three servants. To one servant he gives 5 talents. To another he gives 2 talents. To the last he gives 1 talent. The man leaves on a long journey. The servant who was given 5 talents and the one who was given 2 talents invest the money given to them. The servant who was given 1 talent hid it.

When the man returned from his journey, the first two servants returned the man's money with the additional money they made from their investments.

WELL DONE GOOD AND FAITHFUL SERVANT

The man praised the first two men for their faithful use of his money. They put his money to work for him. He then promoted them and gave them greater responsibility and enormous privilege knowing that they could be trusted.

Will we be ready when Jesus returns?

What of the last man? The one who hid the talent?

YOU WICKED AND SLOTHFUL SERVANT!

The man was angry with the man who hid his money. He took the 1 talent and gave it to the first servant. Then he punished the slothful servant.

Cast the worthless servant into the outer darkness. In that place there will be weeping and gnashing of teeth.

What will we do with the grace, the gifts and the message that Jesus has given us?