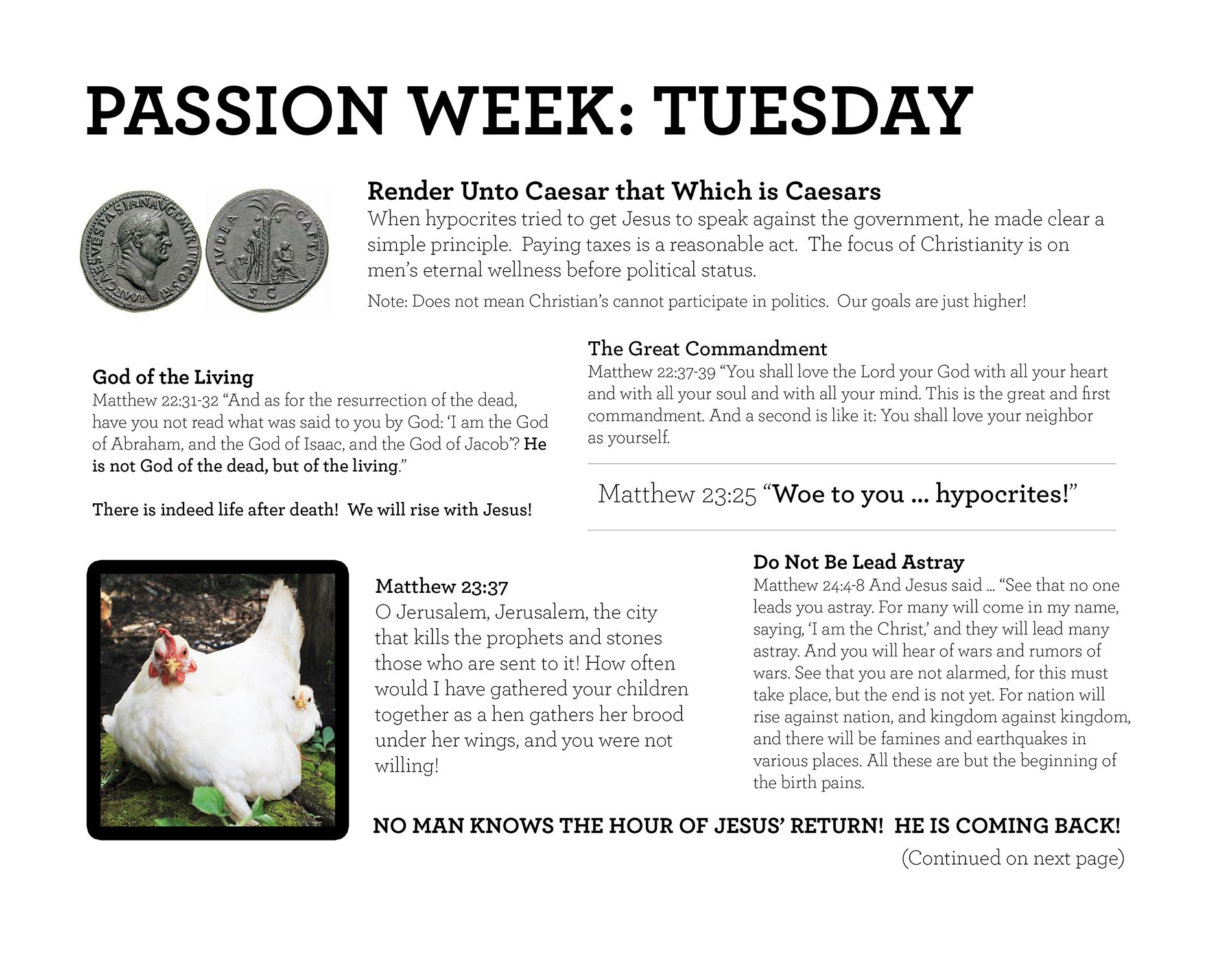 | | |
| --- | --- |
| | |
---
Render Unto Caesar that Which is Caesars
When hypocrites tried to get Jesus to speak against the government, he made clear a simple principle. Paying taxes is a reasonable act. The focus of Christianity is on men's eternal wellness before political status.
Note: Does not mean Christian's cannot participate in politics. Our goals are just higher!

God of the Living
Matthew 22:31-32 "And as for the resurrection of the dead, have you not read what was said to you by God: 'I am the God of Abraham, and the God of Isaac, and the God of Jacob'? He is not God of the dead, but of the living."

There is indeed life after death! We will rise with Jesus!

The Great Commandment
Matthew 22:37-39 "You shall love the Lord your God with all your heart and with all your soul and with all your mind. This is the great and first commandment. And a second is like it: You shall love your neighbor as yourself.

Matthew 23:25 "Woe to you ... hypocrites!"

Matthew 23:37
O Jerusalem, Jerusalem, the city that kills the prophets and stones those who are sent to it! How often would I have gathered your children together as a hen gathers her brood under her wings, and you were not willing!

Do Not Be Lead Astray
Matthew 24:4-8 And Jesus said ... "See that no one leads you astray. For many will come in my name, saying, 'I am the Christ,' and they will lead many astray. And you will hear of wars and rumors of wars. See that you are not alarmed, for this must take place, but the end is not yet. For nation will rise against nation, and kingdom against kingdom, and there will be famines and earthquakes in various places. All these are but the beginning of the birth pains.

NO MAN KNOWS THE HOUR OF JESUS' RETURN! HE IS COMING BACK!