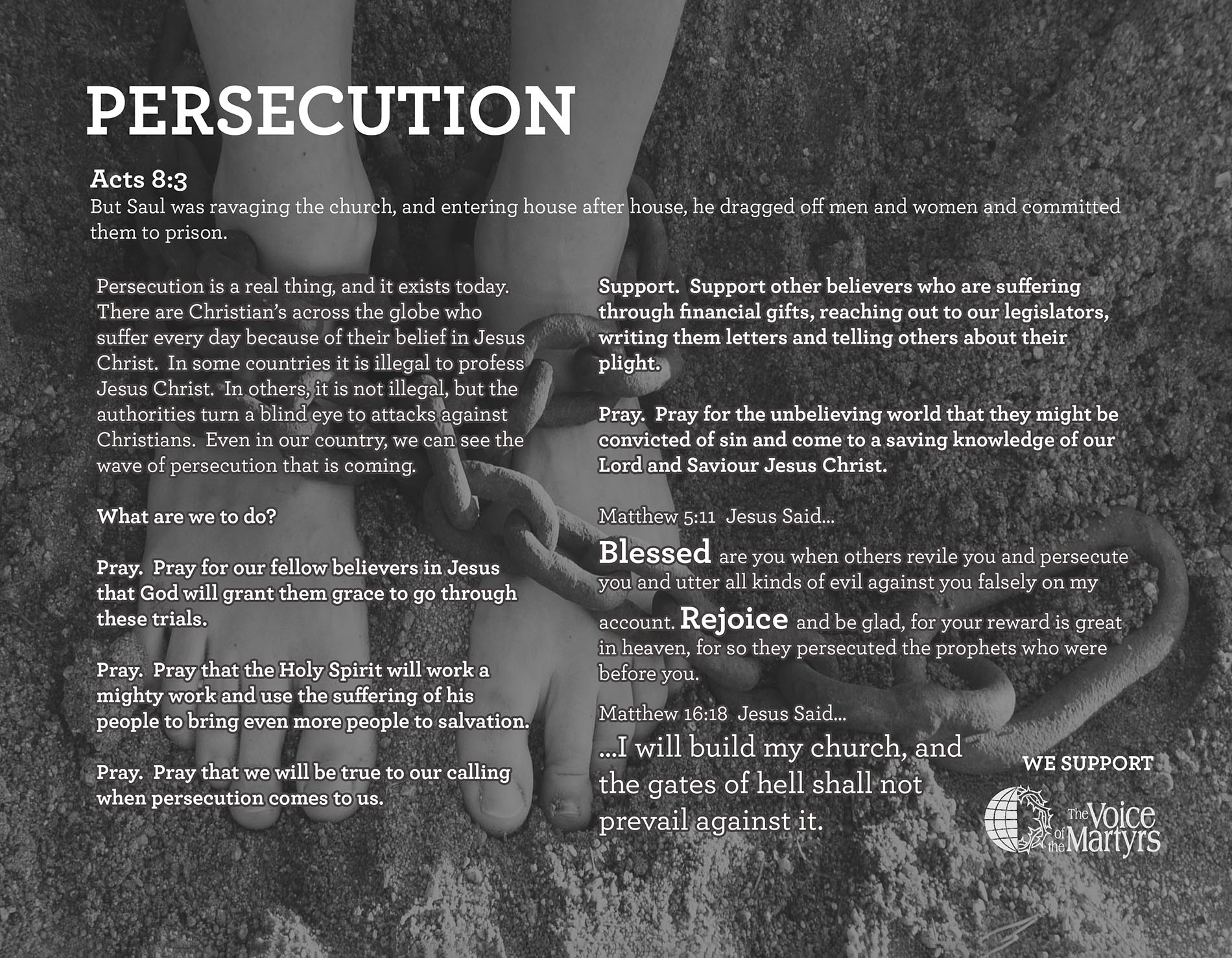 | | |
| --- | --- |
| | |
---
Acts 8:3
But Saul was ravaging the church, and entering house after house, he dragged off men and women and committed them to prison.

Persecution is a real thing, and it exists today. There are Christian's across the globe who suffer every day because of their belief in Jesus Christ. In some countries it is illegal to profess Jesus Christ. In others, it is not illegal, but the authorities turn a blind eye to attacks against Christians. Even in our country, we can see the wave of persecution that is coming.

What are we to do?

Pray. Pray for our fellow believers in Jesus that God will grant them grace to go through these trials.

Pray. Pray that the Holy Spirit will work a mighty work and use the suffering of his people to bring even more people to salvation.

Pray. Pray that we will be true to our calling when persecution comes to us.

Support. Support other believers who are suffering through financial gifts, reaching out to our legislators, writing them letters and telling others about their plight.

Pray. Pray for the unbelieving world that they might be convicted of sin and come to a saving knowledge of our Lord and Saviour Jesus Christ.

Matthew 5:11 Jesus Said...
Blessed are you when others revile you and persecute you and utter all kinds of evil against you falsely on my account. Rejoice and be glad, for your reward is great in heaven, for so they persecuted the prophets who were before you.

Matthew 16:18 Jesus Said...
...I will build my church, and the gates of hell shall not prevail against it.