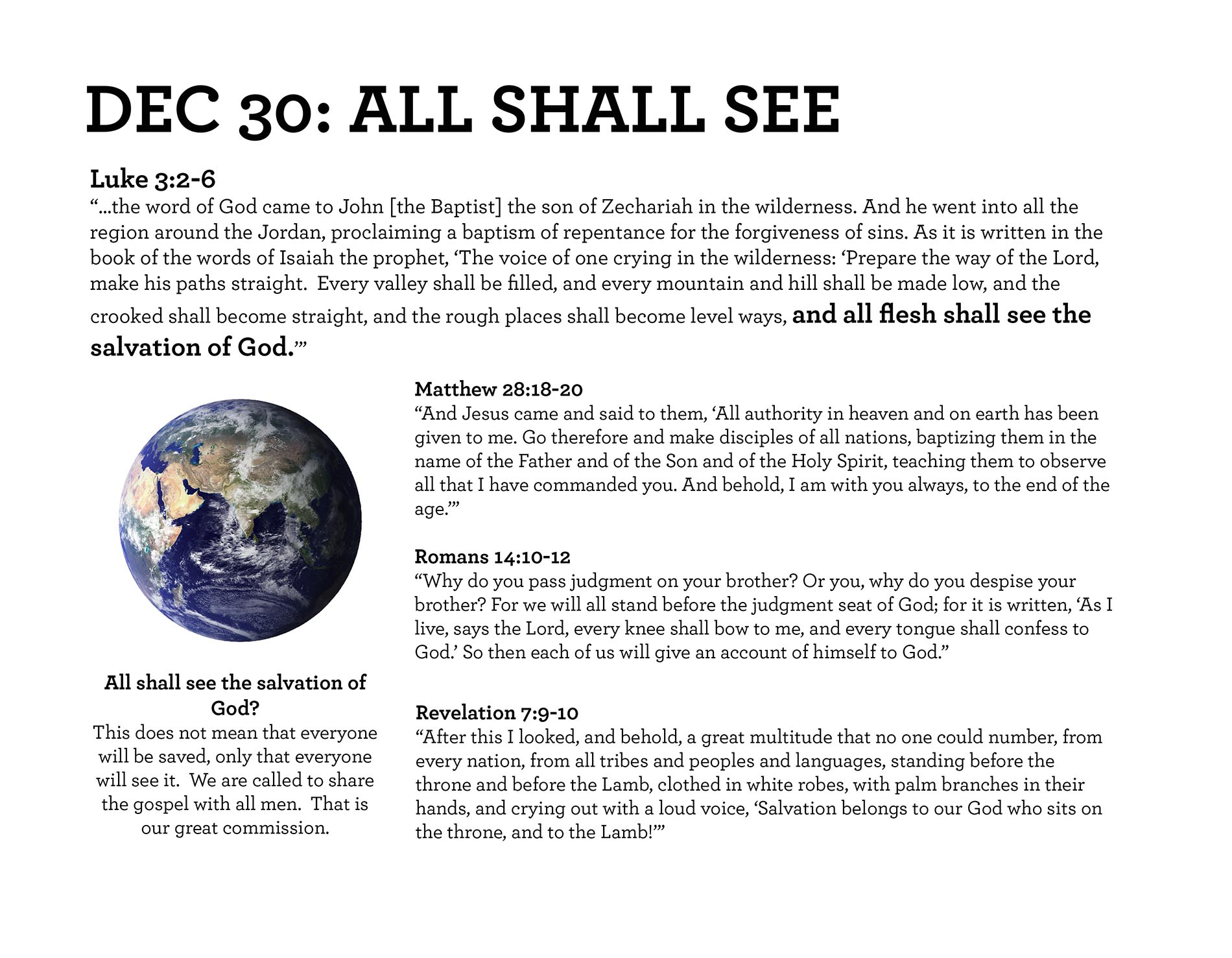 | | |
| --- | --- |
| | |
---
Luke 3:2-6
"...the word of God came to John [the Baptist] the son of Zechariah in the wilderness. And he went into all the region around the Jordan, proclaiming a baptism of repentance for the forgiveness of sins. As it is written in the book of the words of Isaiah the prophet, 'The voice of one crying in the wilderness: 'Prepare the way of the Lord, make his paths straight. Every valley shall be filled, and every mountain and hill shall be made low, and the crooked shall become straight, and the rough places shall become level ways, and all flesh shall see the salvation of God.'"

Matthew 28:18-20
"And Jesus came and said to them, 'All authority in heaven and on earth has been given to me. Go therefore and make disciples of all nations, baptizing them in the name of the Father and of the Son and of the Holy Spirit, teaching them to observe all that I have commanded you. And behold, I am with you always, to the end of the age.'"

Romans 14:10-12
"Why do you pass judgment on your brother? Or you, why do you despise your brother? For we will all stand before the judgment seat of God; for it is written, 'As I live, says the Lord, every knee shall bow to me, and every tongue shall confess to God.' So then each of us will give an account of himself to God."

Revelation 7:9-10
"After this I looked, and behold, a great multitude that no one could number, from every nation, from all tribes and peoples and languages, standing before the throne and before the Lamb, clothed in white robes, with palm branches in their hands, and crying out with a loud voice, 'Salvation belongs to our God who sits on the throne, and to the Lamb!'"

All shall see the salvation of God?
This does not mean that everyone will be saved, only that everyone will see it. We are called to share the gospel with all men. That is our great commission.