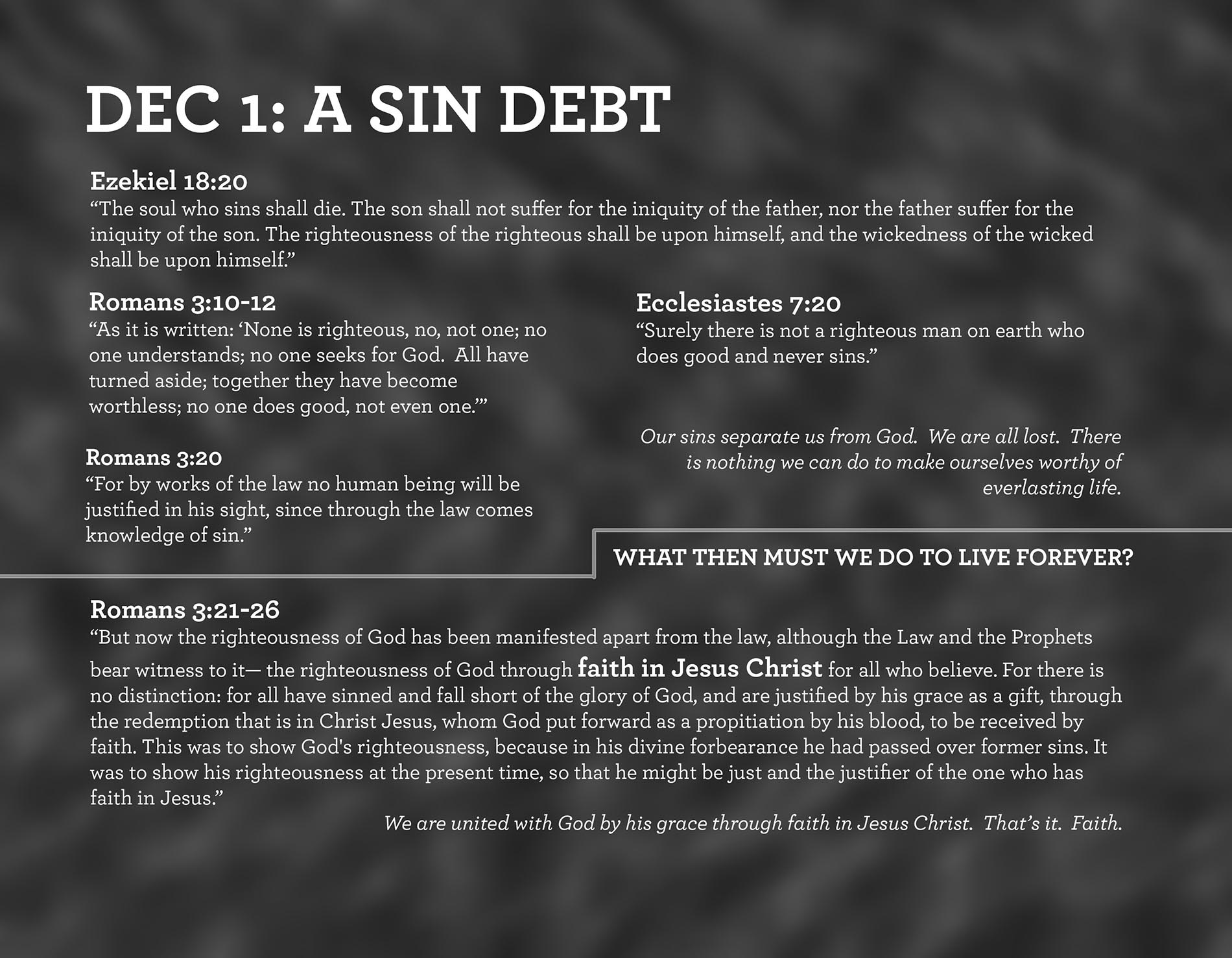 | | |
| --- | --- |
| | |
---
Ezekiel 18:20
"The soul who sins shall die. The son shall not suffer for the iniquity of the father, nor the father suffer for the iniquity of the son. The righteousness of the righteous shall be upon himself, and the wickedness of the wicked shall be upon himself."

Romans 3:10-12
"As it is written: 'None is righteous, no, not one; no one understands; no one seeks for God. All have turned aside; together they have become worthless; no one does good, not even one.'"

Romans 3:20
"For by works of the law no human being will be justified in his sight, since through the law comes knowledge of sin."

Ecclesiastes 7:20
"Surely there is not a righteous man on earth who does good and never sins."

Our sins separate us from God. We are all lost. There is nothing we can do to make ourselves worthy of everlasting life.

WHAT THEN MUST WE DO TO LIVE FOREVER?

Romans 3:21-26
"But now the righteousness of God has been manifested apart from the law, although the Law and the Prophets bear witness to it— the righteousness of God through faith in Jesus Christ for all who believe. For there is no distinction: for all have sinned and fall short of the glory of God, and are justified by his grace as a gift, through the redemption that is in Christ Jesus, whom God put forward as a propitiation by his blood, to be received by faith. This was to show God's righteousness, because in his divine forbearance he had passed over former sins. It was to show his righteousness at the present time, so that he might be just and the justifier of the one who has faith in Jesus."

We are united with God by his grace through faith in Jesus Christ. That's it. Faith.